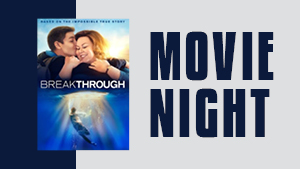 All Congregation Movie Night
June 10; 6:30-8:30pm, North Campus, Fellowship Center
All men, women, middle schoolers and high schoolers are invited. This is a free event.

Breakthrough: Tragedy strikes when Joyce Smith's adopted son, John, falls through the ice on a frozen lake in Missouri. Trapped underwater for more than 15 minutes, rescuers bring John back to the surface and rush him to the nearest hospital. While doctors fear the worst, the 14-year-old boy continues to fight for his life as Joyce, her husband and their pastor stay by his bedside and pray for a miracle.
As a partner with Lake Agassiz Habitat for Humanity's Faith Build Event we are looking for committed volunteers to help build a home on Monday, July 12 and Tuesday July 13. No construction experience is necessary!
5 volunteers are needed for each session. The sessions are from 8:00am-12:00pm and 12:00pm-4:00pm each day.
To register click the graphic on the left. You will need to make an account on the Volunteer Up platform, if you don't already have one. When you create your profile, be sure to click the box next to "Hope Lutheran Church" in the list of groups. Anyone who already has a profile on the platform can scroll through the calendar and find the "Hope Lutheran Day!" to participate.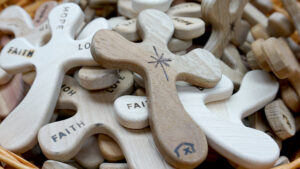 Prayer Cross Ministry
Meets Second Tuesday Monthly – 6:30-8:30pm
Contact:
Gerald Larsen, 701.730.173
7
We are a men's & women's ministry that wants to spread the love and good news of Jesus Christ. Each month, our group of wonderful individuals get together for some cross making. If you love the smell of sawdust, working with your hands and enjoying good conversation and fellowship, this would be for you. It doesn't matter whether you come once or every time, nor does it matter if you cut one cross or five thousand. Each and every cross makes a world of difference to whoever it finds a new home with. This is a very special ministry. We get to hand out faith, hope, and love one cross at a time.
Adult Small Groups
Q: I am not connected to a Small Group, but would like to be. How can I get connected?
Q: How are small group resources organized at Hope Lutheran?
A: Existing small groups who want to focus their study in conjunction with the sermon series are encouraged to use the material provided during worship.
Q: Can I start a new Small Group?
A: Absolutely! Please call the Church Office at 701.235.6629 or email adults@fargohope.org and we can walk you through starting a Small Group.
*If you are a Small Group that is already meeting, please call and let the Church Office know.
Music & Worship
Bells of Hope | North Campus
Rehearsals:
Wednesdays, 5:45-7:00pm [ON HOLD UNTIL FURTHER NOTICE]
The Bells of Hope is a fun music ministry opportunity. The group plays monthly for worship at the North Campus. The ability to read music is necessary.
Praise Choir | South Campus
Rehearsals:
Wednesdays, 7:00-8:00pm [ON HOLD UNTIL FURTHER NOTICE]
Sanctuary Choir | North Campus
Rehearsals:
Wednesdays, 7:15-8:15pm [ON HOLD UNTIL FURTHER NOTICE]
Worship Team Vocalists & Instrumentalists
The Worship Team consists of vocalists and instrumentalists that sing and play on a worship team once a month, and includes a Tuesday night rehearsal. For more information or to schedule an audition, click the connect link.