Men of Hope is a movement that encourages men to lead lives of integrity and passion as followers of Jesus Christ. God's Word is clear. As men, we are called to be spiritual champions, not only in our homes, but in the world that Christ has called us to serve. Proverbs 27:17 says, "As iron sharpens iron, so one man sharpens another." It is important for the men of our congregation and community to rally together and strengthen one another in our faith.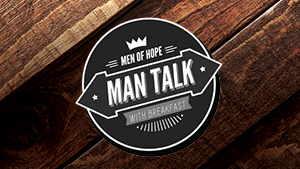 Man Talk with Breakfast
Next Meeting December 9 l 6:30am l South Campus
Join the Men of Hope for a FREE breakfast and speaker. We wrap up in time for you to be at work by 8:00am. Come early if you like and lend a hand in the kitchen. A freewill offering will be taken. Proceeds will be used for Men's Outreach. Man Talk meets monthly.
Connect with your peers and dig deeper into life and faith together
Life is better together! We invite you to try joining a small group. Small groups are an opportunity to experience life and faith with others at Hope. Click the "Find a Small Group" button, login and select the Topic (Sermon Series, Bible Study or Interest) to find a group that fits you.
Sermon Series Small Groups for Men
Go deeper into your "soul business" by making the sermon series personal.
Each week the Pastors at Hope Lutheran are preaching God's word for you. These groups are focused on what we hear each week and studying together brings those truths closer to our hearts and minds so we grow closer to God and his will for us.
Tuesdays: 6:30am, Randy's Restaurant with Lex
Tuesdays: 7:00am, South Campus with Pastor Mike
Wednesdays: 12:00pm, North Campus with Pastor Mike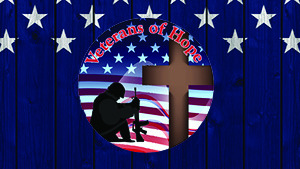 Veterans of Hope
(Group Topic is "Interest")
Care Basket Donations Drive | All Campuses |
Now thru December 11
Veterans of Hope is collecting items for care baskets that will be distributed to area veterans. Below is a list of items requested. Donations will be collected at the North Campus Church Office, South Campus Information Center, and in a donation bin at West Campus.
Monthly Breakfast | Saturday, December 11 | 9:00-11:00am |
North Campus
All veterans are invited for a breakfast, a great speaker and an opportunity to connect with other veterans.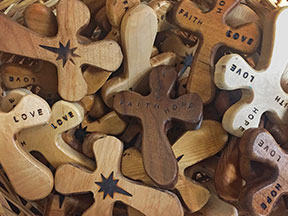 Prayer Cross Ministry

(Group Topic is "Interest")
Meets Second Tuesday Monthly – 6:30-8:30pm
We are men & women ministry who want to spread the love and good news of Jesus Christ. Each month, our group of wonderful individuals get together for some cross making. If you love the smell of sawdust, working with your hands and enjoying good conversation and fellowship, this would be for you. It doesn't matter whether you come once or every time, nor does it matter if you cut one cross or five thousand. Each and every cross makes a world of difference to whoever it finds a new home with. This is a very special ministry. We get to hand out faith, hope, and love one cross at a time.
Fix It Forward Ministry
More Info

Here
Our goal is to remove the transportation barrier for needy members of our community, thus helping enable them to be independent and self-sufficient. This is accomplished first by providing free car repairs to needy individuals, to help keep their vehicles on the road and safe. Also by repairing donated vehicles and giving them to needy members in our community who do not have a vehicle or whose vehicle is beyond repair. We utilize volunteer labor, discounted parts, and charitable donations to cover the costs of repairs. Volunteers are an essential part of our ability to perform needed repairs on vehicles. All skill levels are welcome. Whether you've done your own engine swap, just like to change your own oil (or want to learn how!), would like to help with paperwork, or have other non-automotive ways to contribute, contact us at the email above. We truly are Driven To Serve, both the needy and our Lord and Savior Jesus Christ.