Exploring Servant Leadership

Thursdays l October 3-November 21 (On Break October 31)
6:30-8:00pm

|
South Campus

| No Cost
Servant leadership is both a philosophy and set of practices, which can assist us in living the Beatitudes. We will spend 7 weeks exploring daily opportunities to bring the Beatitudes to life. Led by Kimberlee Haskins.
Veterans of Hope
Saturday, October 19 l 9:00am l North Campus
Join us for "Peace Within the Battle", featuring former Irish Army Ranger John Corcoran. John will share his powerful life story of finding faith, identity and purpose.
John's audiences have ranged from prisoners to top military officials. His message is universal; there is no rewriting the past, but a man can set a different course with a fresh purpose. He can take a step of faith.
Event is open to all veterans and their families. Free will offering will be taken.
Nurtured Heart Approach Parenting Class

November 7-21 l 6:00-8:00pm l North Campus

Cost: $15 for optional book
The Nurtured Heart Approach® to Parenting is a class for anyone who would like deep, rich relationships that grow out of love and respect for others. Using the tools and techniques taught in this class, you will see transformation in your life and the life of your child.
Childcare available if registered by October 24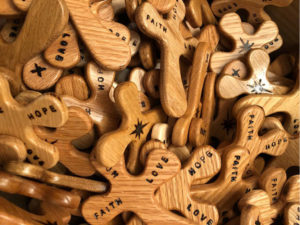 Prayer Cross Ministry
Meets Second Tuesday Monthly – 6:30-8:30pm
We are a men's & women's ministry that wants to spread the love and good news of Jesus Christ. Each month, our group of wonderful individuals get together for some cross making. If you love the smell of sawdust, working with your hands and enjoying good conversation and fellowship, this would be for you. It doesn't matter whether you come once or every time, nor does it matter if you cut one cross or five thousand. Each and every cross makes a world of difference to whoever it finds a new home with. This is a very special ministry. We get to hand out faith, hope, and love one cross at a time.
Adult Small Groups
Q: I am not connected to a Small Group, but would like to be. How can I get connected?
Q: How are small group resources organized at Hope Lutheran?
A: Existing small groups who want to focus their study in conjunction with the sermon series are encouraged to use the material provided during worship.
Q: Can I start a new Small Group?
A: Absolutely! Please call the Church Office at 701.235.6629 or email adults@fargohope.org and we can walk you through starting a Small Group.
*If you are a Small Group that is already meeting, please call and let the Church Office know.
Music & Worship
Bells of Hope | North Campus
Rehearsals:
Wednesdays, 5:45-7:00pm
The Bells of Hope is a fun music ministry opportunity. The group plays monthly for worship at the North Campus. The ability to read music is necessary.
Praise Choir | South Campus
Rehearsals:
Wednesdays, 7:00-8:00pm, September 4-May 6.
Sanctuary Choir | North Campus
Rehearsals:
Wednesdays, 7:15-8:15pm, September 4-April 29.
Worship Team Vocalists & Instrumentalists
The Worship Team consists of vocalists and instrumentalists that sing and play on a worship team once a month, and includes a Tuesday night rehearsal. For more information or to schedule an audition, click the connect link.