HSM exists for all
students
to
know the love of Jesus
.
During this time of crisis, the HSM community is staying connected online.
Follow us on Instagram or Facebook for daily content and a message every Wednesday at 7:15pm.
Subscribe to Hope's YouTube for church-wide content.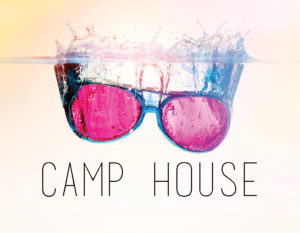 Experience a high school retreat at "the best place in the world"… Camp House! Located on a small private lake an hour north of Duluth, MN, Camp House is a great place to see God in a whole new way, without the distractions of your daily life. For students in grades 9-12 during the 2019-2020 academic year.
Cost: $325 ($125 deposit due with registration; $200 final payment due on or before July 1) All payments are non-refundable.
The first round of Camp House registration is full with 59 spots taken! We hope to open more spots soon. If you want to be on the waitlist, please email highschool@fargohope.org and we'll notify you when further registration is available.
Interested in working in the Hebrews coffee shop? Funds raised go directly towards your next trip or retreat! Please fill out the volunteer form.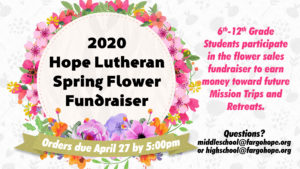 2020 Hope Lutheran Spring Flower Fundraiser
Orders due April 27 by 5:00pm
6th-12th Grade Students participate in the flower sales fundraiser to earn money toward future Mission Trips and Retreats.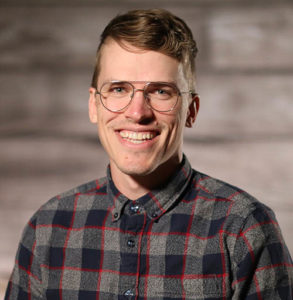 Kristian says HSM is the "best job ever." He is fueled by people instead of coffee. He insists that teenagers, golden retrievers, loyal friends and toothbrushes are God's best gifts to mankind. His single-mindedness means he can usually be found moving quickly, listening closely, talking too much about Jesus, and trying to remember what he was just doing.
Ashton brings an abundance of leadership experience to HSM, loves a challenge of any sort, and brims with passion for God. He says if you're not always learning and growing, you're missing something. If you have not met him, look for a 6'4" flannel-wearing twenty-something strolling around Hope with a grin on his face and fire in his heart.
Terri is the real brains behind Hope's student programs. You can expect to find her planning events, crunching numbers, singing hymns, or herding us like cats. She handles finances, registrations, events, strategy and all the points of vision that get missed.
Open Arms Ministry
Open Arms supports students with disabilities so they can participate in Student Ministry activities.