Using a credit card or bank account
What kinds of gifts can I give?
You can give with cash, check or credit card.
Credit card gifts can be made using our secure giving page. By offering the credit/debit card option, Hope Lutheran is not encouraging you to incur any debt in order to make donations to the church.
If you prefer to give cash, envelopes are available at the Information Centers or in the Church Office.
Mailed gifts can be sent to Hope Lutheran Church, 2900 Broadway N, Fargo, ND 58102.
NEW! Text Giving
To give a gift via text message, text the gift amount (Ex. $100) to 701-404-8325. You will then be prompted to complete a one-time registration. You'll receive a confirmation text and receipt via email as well as the option to set up a reoccurring gift.
Authorized monthly, semi-monthly or weekly withdrawals for a specified amount can be made directly from your checking or savings account. This is a convenient way to ensure that your giving is consistent, even when you are out of town. Fill out a
Printable Form
or set up your recurring EFT through our
secure giving page
.
Automatic payments can also be set up through your bank using a Bill Pay service. Contact your financial institution for more information on their Bill Pay services.
Publicly-traded securities can be donated to the church and may also provide significant tax benefits to the donor. Talk to your tax adviser for more information.
If you have any questions about giving to Hope Lutheran Church, please contact:
JUDY AAFEDT

EXECUTIVE DIRECTOR OF MINISTRY OPERATIONS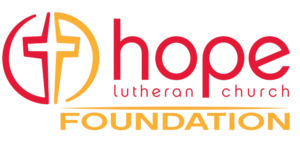 If you are looking for more information on the Hope Lutheran Foundation, visit the Foundation page.