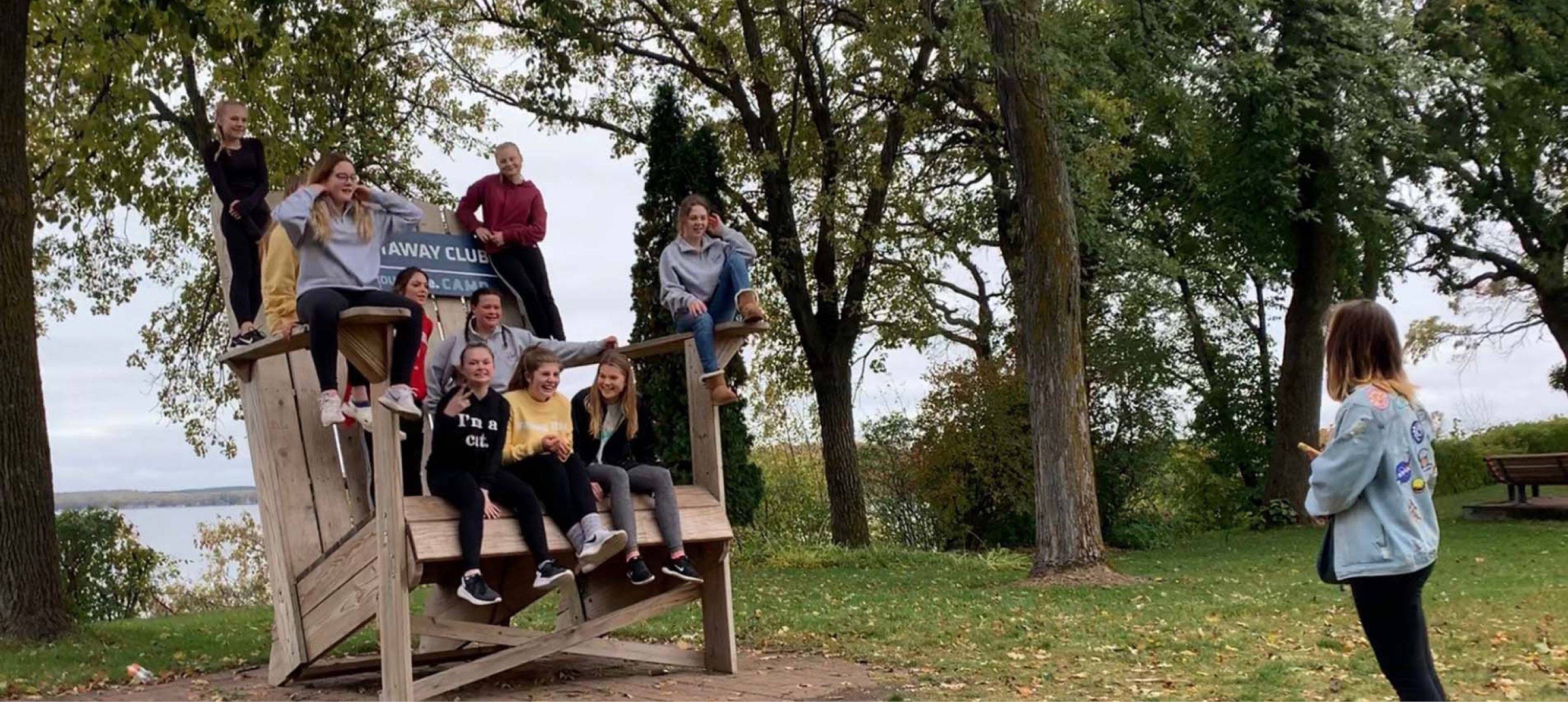 Student Ministry: Grades 6-9
Confirmation at Hope Lutheran
Welcome to Middle School Ministry and Confirmation at Hope Lutheran!
We are so excited to be partnering with your family to help your middle school student(s)
know the love of Christ through Confirmation!
Middle School Ministry and Confirmation is a relational style
program for students in grades 6-9.
Our mission is
"to encourage all students to know the
love of Christ and articulate their faith in him."
Subscribe to us on YouTube (Fargo Hope)
April 9: Undefeated: Small Group Discussion – Click
HERE
April 2: Bullying: Small Group Discussion – Click HERE
March 25: Responding to COVID-19: Small Group Discussion – Click HERE
March 19: Over It (Forgiveness): Small Group Discussion –
Click
HERE
It's that time of year when our Confirmation students can get ask all the questions they may have saved over the academic year.
Why does God put us through hard times? (Pastor Chuck)
Confirmation
2019-2020 Session:
Wednesdays from 7:15-8:00pm, North and South Campus
Sundays from 11:00-11:45am, North and South Campus
Sundays 10:30-11:15am, West Campus
*For the sake of each students' small group experience, students may only be registered for one campus and day.
VOLUNTEERS:
We need adults to encourage kids to know the love of Christ! Parent/adult involvement is what makes Confirmation Ministry powerful and successful here at Hope. We ask each family to find at least one area in which to serve to ensure your student(s) have a positive Confirmation experience. Background checks are conducted on all adults who work directly with students under age 18.
For Confirmation Expectations, please click HERE
Affirmation of Baptism Worship has been rescheduled to September 13. Small Groups are assigned to specific worship times. Please email

middleschool@fargohope.org

with any questions.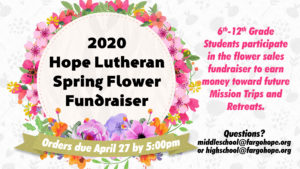 2020 Hope Lutheran Spring Flower Fundraiser
Orders due April 27 by 5:00pm
6th-12th Grade Students participate in the flower sales fundraiser to earn money toward future Mission Trips and Retreats.
Due to social distancing recommendations for reducing the spread of COVID-19, this year's fundraising will be a greenhouse gift card sale.
Gift cards are available in the amounts of $25, $50, $75 & $100 and do not expire.
If you are a student who would like to participate, please click HERE to download an order form.

If you are an individual who would like to order a gift card and have your contribution go to the Youth Ministry Trip Scholarship Fund, please send an email to tdiers@fargohope.org with the dollar amount you would like to order.
Interested in volunteering in the Hebrews coffee shop? Please fill out the volunteer form.

Open to 7th-9th Grade Students (incoming fall 2020)
Registration is open through July 1 or until spots are filled.

$440/student ($200 deposit)
All payments are non-refundable. Cost includes food, lodging, and transportation.
Questions? Contact middleschool@fargohope.org

Follow us on Instagram
CONTACT THE MIDDLE SCHOOL MINISTRY TEAM | PHONE: 701-235-6629 |

Open Arms Ministry
Open Arms supports students with disabilities so they can participate in Student Ministry activities.