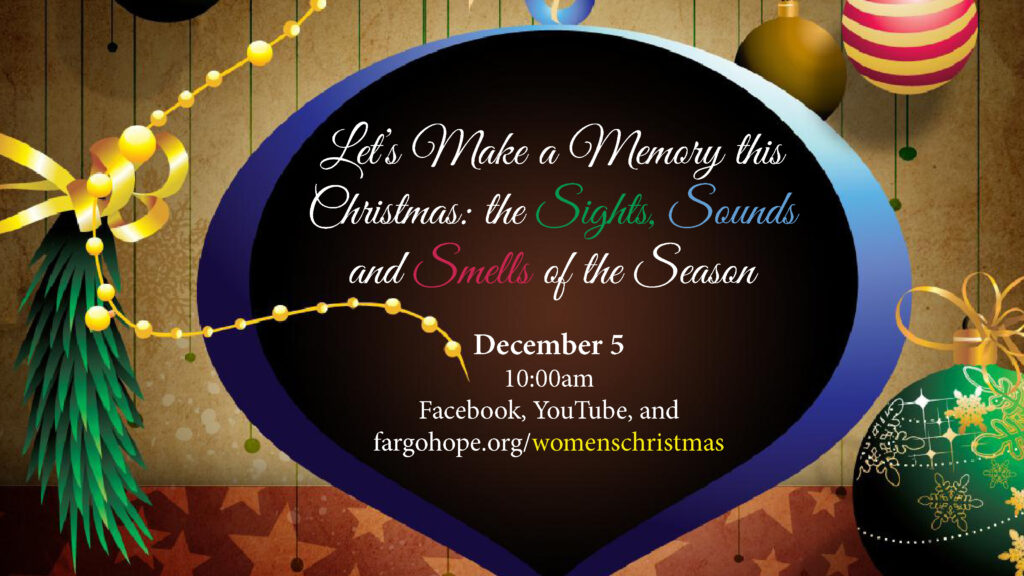 Let's Make a Memory this Christmas: the Sights, Sounds and Smells of the Season
It's nearly time for our 2020 online presentation of
the Hope Women's Christmas Event!
The program
will be presented Saturday, December 5 at 10:00am
on our Christmas Page (Click HERE), Hope Lutheran
and Women's Ministry Facebook pages, and YouTube.
#growing

together

while

staying

apart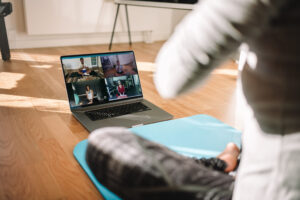 Are you ready for some movement? Join women of Hope for low impact aerobics and toning via Skype, Tuesday's, 5:00pm and Thursdays, 5:15pm. Download Skype app and send your email to MaryHolm23@gmail.com. Light weights and bands are suggested.
Studying Together – Bible Studies/Book Studies
We are glad you are joining us on our faith journey. Study cost is for materials. If you already have the materials there is no cost for the study. Scholarships for Bibles, study materials, or childcare are available. Questions? Contact the Church Office at 701-235-6629.
Advent- The Weary World Rejoices
Online Study via Zoom with Karen Moore
Experience the Christmas season anew this year by studying Advent, why we celebrate it, and how it fuels our worship of Jesus. Understand the anticipation and waiting the Old Testament world endured, the joy and new life signaled by the coming of Christ, and the way Advent points to the glory of God still to come.
Online meetings are weekly on Wednesdays, 7:00-8:00pm, November 11-December 16.
Please contact Karen Moore at 701.388.9289 or shadowmoore@msn.com if you are interested or want more info.
30 Life Principles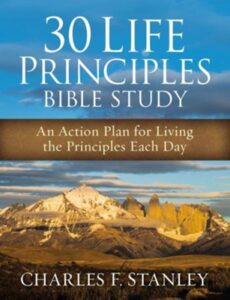 Online Study via Zoom with Karen Moore

Stanley lays out 30 life principles that can help you become more like Christ every day. You will learn that "God's Word is an immovable anchor in times of storm" and "fight all your battles on your knees and you will win every time" and "God acts on behalf of those who wait for Him" and much more! By practicing these 30 life principles you will be cooperating fully with the Spirit of God and your life will grow into the likeness of Christ.
Online meetings are weekly on Thursdays, 12:00-1:00pm, October 1-December 17.
(no meeting Thursday, November 25)
Please contact Karen Moore at 701.388.9289 or shadowmoore@msn.com if you are interested or want more info.
Flourish- A Mentoring Journey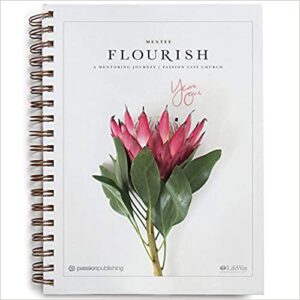 Individual or Small Group mentoring with Karen Moore

Cost: Approx. $30 for book
Are you, or someone you know just starting out on the journey with Christ? Are you wanting someone to walk alongside & guide you along the way? Karen Moore is offering, either individually or in very small groups (3 max), "Flourish- A Mentoring Journey".
Meetings would be every other week for a year to explore what Scripture says about identity, calling, gratitude and other relevant topics.
Please contact Karen Moore at 701.388.9289 or shadowmoore@msn.com if you are interested or want more info.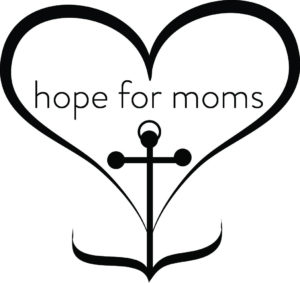 We have this hope as an anchor for the soul, firm and secure.
KAMS (Kids and Moms)
Moms, are you feeling stressed these days? Get connected for inspiration and encouragement during these challenging days and know that you are not alone! Connect with KAMS weekly in the park, beginning mid-September. If you have questions, contact Ruth at 701.238.1831.
MOPS/MOMSNext
November 21 (third Saturday of the month)
Join us virtually at the first MOPS/MOMSNext meeting of the year! Our zoom meeting will include intros and ice breakers, as well as learning more about this year's theme, "Decide to Rise"…all from our own homes.
Book Clubs
Groups meet monthly. The same monthly book selection is discussed at both meetings.
Meets the 1st Tuesday of the month, 7:30pm by Zoom.
See December & January book selections below
Meets the 2nd Monday of the month, 11:15am by Zoom.
See December & January book selections below
"The Keeper of Lost Things"
by Ruth Hogan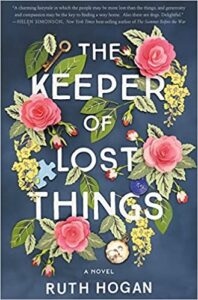 A charming, clever, and quietly moving debut novel of of endless possibilities and joyful discoveries that explores the promises we make and break, losing and finding ourselves, the objects that hold magic and meaning for our lives, and the surprising connections that bind us.
by William Kent Krueger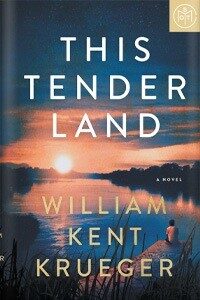 The book begins with Odie, a young boy with a good heart but a penchant for getting in trouble, who suffers alongside his brother Albert at a cruel boarding school. Odie spends his days doing school-enforced manual labor, playing his contraband harmonica—and landing in detention. When circumstances force Odie, Albert, and two fellow orphans to escape, their getaway takes them on a grand adventure, crossing paths with strangers and witnessing the effects of the Great Depression.
HLCW Circles
Circles meet monthly for Bible study and have mission projects to benefit our community. Please watch for communication from your Circle leader regarding upcoming meetings, or check in with your leader for your group's updated information.

The Fix it Forward Spark Plugs make connections between mechanics and the women who need their cars fixed. We are looking for volunteers with a compassionate heart for single women who are struggling. A one-time training is offered and we ask for a six-month commitment. Contact Judy S., 701.235.6629, x241 or jsiegle@fargohope.org.
Open Arms Ministry
Open Arms supports students with disabilities so they can participate in Student Ministry activities.
Click here to be an Open Arms Volunteer.
For more information, contact Judy Siegle at jsiegle@fargohope.org.
Contact us:
Women's Ministry Director
Women's Ministry Leadership Team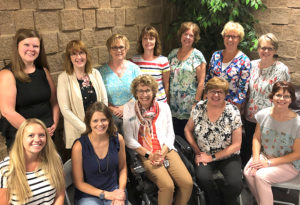 Front Row: Jacey Lindblad, April Rabideaux, Judy Siegle, Julie Stotten, Deb Odegard
Back Row: Lisa Zuther, Sherri Pederson, Linda Haukedahl, Debbie Bartholomay, Karen Moore, Idette Graham, Shari Breiland