Endless Hope featuring Liz Curtis Higgs
November 8 | 7:00-9:00pm | South Campus | $15 Advance, $20 at the door
Liz's messages are biblical, encouraging, down to earth and profoundly funny, helping both sisters and seekers embrace the truth of God's amazing, unchanging grace. Join us for an evening of laughter and encouragement with Liz and worship music with Austin & Lindsey Adamec, as we celebrate the ENDLESS HOPE God offers us.
Tickets available online w/ $5 off using code: LCHHOST or in the church office.
We are glad you are joining us on our faith journey. Study cost is for materials. If you already have the materials there is no cost for the study. Scholarships for Bibles, study materials, or childcare are available. Questions? Contact the Church Office at 701-235-6629.
The Invisible War
by Chip Ingram hosted by Karen Moore
Thursdays, October 25- January 10
(On break Nov 22, Dec 20 & 27)
12:00-1:00pm | Atomic Coffee
This book examines what every believer needs to know about Satan, demons & spiritual warfare, offering a balanced look at this controversial subject. This provocative book will help Christians understand what the Bible says about these threats & will show them how they can safeguard themselves through prayer. The Invisible War offers a balanced look at what is going on in the spiritual realm & what believers can do to defend themselves.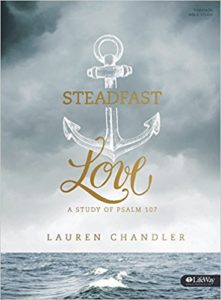 Steadfast Love: A Study of Psalm 107
by Lauren Chandler, hosted by Lois Anfinrud
Wednesdays, September 19- October 31
1:00-3:00pm | North Campus
Psalm 107 is a call to worship. It reminds us that each season of life is an opportunity to reveal the anchor of our souls. In this 7-session study, Lauren Chandler uses Psalm 107 to show us how to face both storms and deserts with courage and trust in Jesus and to discover how tests in our journey of faith reveal the true condition of our hearts.
Twelve Women of the Bible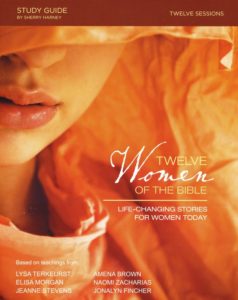 by Lysa TerKeurst, hosted by Ruth Circle
6:30-8:00pm | South Campus
In this study you'll look at the spiritual lessons learned from twelve women & what they mean for you today. You'll discover how these lessons can help you persevere through the circumstances you are facing. You'll learn how to apply biblical lessons to your own modern-day struggles; live through their failures as well as successes; draw near to God in a world filled with trials; find lasting contentment & overcome rejection & insecurity.
Rachel & Leah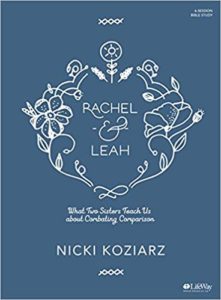 by Nicki Koziarz hosted by Karen Moore
Wednesdays, September 26- November 7
(On break Oct 31)
7:00-8:30pm | North Campus
Why her? How many times have you asked yourself that question? How many times have you felt like you couldn't measure up no matter how hard you tried? We've all been there. In this study, uncover the truths you need to arm yourself with when combating comparison by studying the biblical account of Rachel & Leah. Learn to be content without becoming complacent & discover godly wisdom to quiet the incessant "Why her?" question in your head.
MOPS & MomsNext
3rd Saturday of the month

| 9:00-11:00am | South Campus

|

Next Meeting: October 20
When you combine MOPS (designed for moms of children ages birth-kindergarten) and MOMSNext (designed for moms of school-age children) you get an open, accepting place for moms of children of all ages to experience authentic community, personal growth, practical help and spiritual hope. It's all about friendship, Christian relationships and experiencing God's love. Grab a friend and join us for great food, fellowship and fun! Contact fargohopemops@gmail.com.
KAMS

Thursdays

| 9:00-11:00am | South Campus
Bible Study, fellowship and service projects. Childcare is provided. Contact Callie Bahls at cmbahls@yahoo.com or 701.793.0289.
Hope Full Single Moms

Twice Monthly on Mondays

| 6:00-7:30pm | South Campus
Next Meetings: October 8 & 22
For all single moms, this is a time to rest with God, rejuvenate, share challenges and solutions with women experiencing the same issues as you. There is no cost to attend and childcare is available. For more information or to sign up for childcare contact Lori at 701-367-8290 or loriinfargo@yahoo.com.
Veterans of Hope
For more information on the Veterans of Hope click here.
Higher Power Automotive Ministry Sparkplugs make connections between the mechanics and the women who need their cars fixed. We are looking for volunteers with a compassionate heart for single women who are struggling. A one-time training is offered and we ask for a six-month commitment. Contact Judy S., 701-235-6629 x241 or jsiegle@fargohope.org.
Golf Girls meet Tuesdays, 9:00am at scheduled golf courses (May-October). Contact Nicki at 701.388.7628
to receive weekly email updates of when & where they play.
When: 5:15pm Tuesdays & Thursdays Cost: nominal fee
Where: North Campus Leader: Mary Holm
When: 5:30pm Tuesdays & Thursdays Cost: $2/class or $10/month
Where: South Campus- Thursdays Leader: Tracy Mayo
Book Clubs
Groups meet monthly. The same monthly book selection is discussed at both meetings.
Read 'n Relate
meets the 1st Tuesday of the month, 7:30pm in the North Campus Lounge.
Contact:
Linda, 701-866-0619
Read 'n Relate Too
meets the 2nd Monday of the month, 11:15am in the South Campus Media Center.
Contact: Karen at 701-361-0325 or ksilbernagel@cableone.net
HLCW Circles
Circles meet monthly for Bible study and have mission projects to benefit our community.
Mary-Martha Circle meet the
1st Thursday of the month, 1:30pm at the North Campus. Leaders: Sylvia & Lois
Sarah Circle meets the 2nd Tuesday of the month, 9:30am at the South Campus. Leader: Edna
Ruth Circle meets the 3rd Tuesday of the month, 6:30pm at the South Campus. Leader: Mary Ann
Lydia Circle meets the 2nd Tuesday of the month, 7:00pm by hosted schedule. Leader: Linda C.
Dorcas Circle meets the 2nd Tuesday of the month, 1:30pm by hosted schedule. Leaders: Ann & Rosalie.
Naomi Circle meets the 3rd Tuesday of the month, 9:30am by hosted schedule. Leaders: Linda J. & Jan N.
Card Making Ministry
Next Meeting: Tuesday, November 13

| 6:00-9:00pm | South Campus
The card making group creates beautiful cards that are used by our HopeCare ministry. They are given to people who are hospitalized, shut-ins, first-time parents, and others.
Projects are pre-planned and you will be guided step-by-step, so no experience is needed!
To learn more contact Shari Breiland at
shari.breiland@gmail.com
,
or 701-739-5595.
Meet Our Women's Ministry Team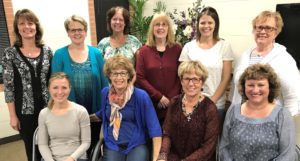 Women's Ministry at Hope Lutheran is alive, vibrant and full of opportunities to grow in your faith. The Women's Ministry team is made up of volunteers and is led by our Women's Ministry Director, Judy Siegle. We are always looking for new women to join our team.
Back (Left to right): Debbie Bartholomay, Shari Breiland, Karen Moore, Sherri Pederson, April Rabideaux, Linda Haukedahl Front: Kacie Schulz, Judy Siegle, Idette Graham, Jerri Rust
Not pictured: Kirsten Schiotz, Natalie Lanoue, Deb Odegard
Open Arms Ministry
Open Arms supports students with disabilities so they can participate in Student Ministry activities.
Click here to be an Open Arms Volunteer.
For more information, contact Judy Siegle at jsiegle@fargohope.org.
Contact us:
Women's Ministry Director
Hope Lutheran Church | 701-235-6629 | North Campus: 2900 Broadway N. Fargo, ND 58102 | South Campus: 3636 25th St. S. Fargo, ND 58104