Events
Rest & Rejuv
Friday & Saturday | November 3 & 4 | North Campus
Attention All Families Affected by Disability! The Inclusion Ministry Network invites mothers of children with special needs to the 11th
Annual Rest & Rejuv, Saturday, November 4, 9:00am-1:00pm at the North Campus, Hope Lutheran Church, 2900 N Broadway, Fargo. Speaker, Tahni Cullen, a mom of a non-verbal autistic son who miraculously began to communicate through an iPad, was forced out of her comfort zone to dream again. Mothers will be treated to a brunch, coffee bar, massages, crafts, door prizes and more. On Friday, November 3, 6:00-7:00pm, Tahni will give a presentation for young adults, parents and caregivers with pizza and pop provided. There is no cost for either event. Please RSVP by October 31 to Cindy at 701-429-1724 or cindyleebuchanan@gmail.com.
The Quest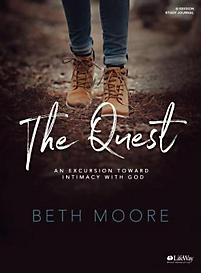 by Beth Moore, hosted by Karen Moore

Wednesdays, October 25-December 6

7:00-8:30pm | North Campus | Cost: $18
In this 6-week study, d
elve into scrip
ture to explore how God created us to seek after Him, a God who desires to be found and known. In this lifelong quest of faith, learn to develop your intimacy with Him and embrace the adventure that comes with living a life for God.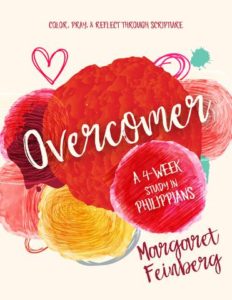 Overcomer: A Four-Week study in Philippians

by Margaret Feinberg, hosted by Lois Anfinrud

Wednesdays, October 25-November 15

1:00-3:00pm | North Campus | Cost: $18

The book of Philippians equips you to move beyond conflict and learn to live as an overcomes. Paul's encouraging letter to the church of Philippi was penned during a personal season of stress and suffering. Through his words, you'll learn how to break free from grumbling and complaining, discover peace when you're tempted to panic and hunt for joy amid great sorrow.

by Proverbs 31, hosted by Natalie Lanoue

October 23-November 26 | Online Study | Cost: $8

Do you ever wonder if it really matters how you live your life? Why worry about our actions when we know God loves us regardless? The Apostle Paul said in Ephesians that we're saved by faith alone. But once we do have faith in God, how should we be living, and where can we find the wisdom we need to live the way God has called us to live?
Groups for Moms
MOPS &

MomsNext
3rd Saturday of the month | 9:00-11:00am | South Campus

Moms with children of ALL ages are invited to get connected with MOPS "Mothers of Preschoolers" and MomsNext (Mothers of School Age). This year, we are combining both groups to be able to nurture EVERY mother with children infancy through school age. We are so excited to be bringing these groups together to guide and support one another! Grab a friend and join us for great food, fellowship and fun! Contact fargohopemops@gmail.com.
KAMS
Kids and Moms meets weekly Thursdays from 9:00-11:00am at the South Campus for Bible Study, fellowship and service projects. Childcare is provided. Contact Amanda P at
amandaperzinski@yahoo.com
Hopefull Single Moms


Next Meetings November 14 & 21, December 12 | 6:00-8:30pm | South Campus
Single moms, take time to rest with God, rejuvenate, share challenges and solutions with women experiencing the same issue as you! Newcomers are welcome anytime. For more information or to register, contact Lori at 701.367.8290 or loriinfargo@yahoo.com.
Connections
Higher Power Automotive Ministry Sparkplugs make connections between the mechanics and the women who need their cars fixed. We are looking for volunteers with a compassionate heart for single women who are struggling. A one-time training is offered and we ask for a six-month commitment. Contact Judy S., 701-235-6629 x241 or jsiegle@fargohope.org.
Golf Girls meet Tuesdays at scheduled golf courses April-October. Contact Nicki at 701.235.1458
to receive weekly email updates of when & where they play.
When: 6:00pm Tuesdays & 5:15pm Thursdays Cost: nominal fee
Where: North Campus Leader: Mary Holm
When: 5:30pm Tuesdays & Thursdays Cost: $2/class or $10/month

Where: South Campus- Thursdays Leader: Tracy Mayo

Holy Yoga

When: 6:30pm Thursdays Cost: donation
Where: South Campus Leader: Jami Streyle

Book Clubs
Groups meet monthly. The same monthly book selection is discussed at both meetings.
Read 'n Relate
meets the 1st Tuesday of the month, 7:30pm in the North Campus Lounge.
Contact:
Linda, 701-866-0619
Read 'n Relate Too
meets the 2nd Monday of the month, 11:15am in the South Campus Media Center.
Contact: Karen at 701-361-0325 or ksilbernagel@cableone.net
HLCW Circles
Circles meet monthly for Bible study and have mission projects to benefit our community.
Mary-Martha Circle meet the
1st Thursday of the month, 1:30pm at the North Campus. Leaders: Sylvia and Lois
Sara Circle meets the 2nd Tuesday of the month, 9:30am at the South Campus. Leader: Edna
Ruth Circle meets the 3rd Tuesday of the month, 6:30pm at the South Campus. Leader: Mary Ann
Lydia Circle meets the 2nd Tuesday of the month, 7:00pm by hosted schedule. Leader: Linda C.
Dorcas Circle meets the 3rd Monday of the month, 7:15pm by hosted schedule. Leaders: Ann & Rosalie.
Naomi Circle meets the 3rd Tuesday of the month, 9:30am by hosted schedule. Leaders: Linda J. & Jan N.
Meet Our Women's Ministry Team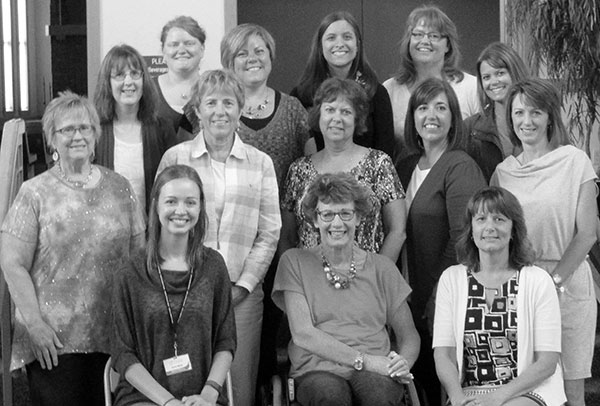 Women's Ministry at Hope Lutheran is alive, vibrant and full of opportunities to grow in your faith. The Women's Ministry team is made up of volunteers and is led by our Women's Ministry Director, Judy Siegle. We are always looking for new women to join our team.
Back row: Sherri Pederson, Elise Joersz, Stefanie Jordheim, Natalie Lanoue, Kristin Schiotz, April Rabideaux
Middle row: Linda Haukedahl, Idette Graham, Karen Moore, Courtney Peterson, Kristi Johnson
Front row: Anne Slette, Judy Siegle, Debbie Bartholomay
Not pictured: Mary Ann Hansen
Open Arms Ministry
Open Arms supports students with disabilities so they can participate in Student Ministry activities.
Click here to be an Open Arms Volunteer.
For more information, contact Judy Siegle at jsiegle@fargohope.org.
Contact us:
Women's Ministry Director

Hope Lutheran Church | 701-235-6629 | North Campus: 2900 Broadway N. Fargo, ND 58102 | South Campus: 3636 25th St. S. Fargo, ND 58104