Card Making Ministry
Meets the 3rd Thursday of each Month
Next Meeting:
April 19
, 6:30-8:30pm at South Campus
The card making group creates beautiful cards that are used by our HopeCare ministry. They are given to people who are hospitalized, shut-ins, first-time parents, and others.
Projects are pre-planned and you will be guided step-by-step, so no experience is needed!
Bible Studies
We are glad you are joining us on our faith journey. Study cost is for materials. If you already have the materials there is no cost for the study. Scholarships for Bibles, study materials, or childcare are available. Questions? Contact the Church Office at 701-235-6629.
Online registration is currently unavailable due to site maintenance. Please check back on Monday, March 26. For assistance, please contact the Church Office at 701-235-6629 or welcome@fargohope.org.
Think Differently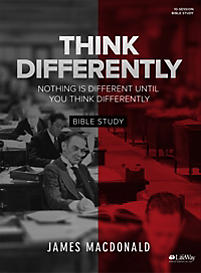 by James MacDonald, hosted by Amy Bjerke

Fridays, March 16-May 25

(On Break March 30)
10:00-11:30am | South Campus | Cost: $16
If you repeatedly find yourself in places where you don't want to go, it's your thinking that's leading you there. This Bible study identifies strongholds, examines how they came to be and offers believers a biblical path toward repentance and the renewing of their minds. God offers our only hope for victory over disposition, dysfunction, double-mindedness and every other mental stronghold. With Him we can think differently.

No Other Gods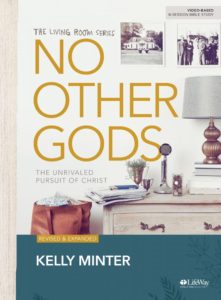 by Kelly Minter, hosted by Lois Anfinrud

Wednesdays, February 28-May 16
1:00-3:00pm | North Campus | Cost: $15
No Other Gods- The unrivaled pursuit of Christ by Kelly Minter (revised & expanded). In this 8-season study we learn to identify the gods we may be unknowingly serving and the lies they tell. As we dethrone our modern-day idols, we are set free for the more abundant life Jesus gives. You'll discover Jesus can do what not other god can.
Proven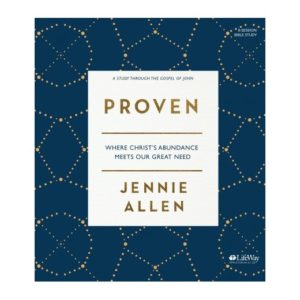 by Jennie Allen, hosted by Karen Moore

Wednesdays, February 28-April 18
7:00-8:30pm | North Campus | Cost: $16
Too many of us walk through life feeling as if we don't measure up. We always seem to thirst for more. We think if we could only work harder or be better, we could be enough. But the truth is, we will never be enough. And thankfully, we don't have to be. Going through key passages in the Book of John, Allen demonstrates how only Jesus is enough. We don't have to prove anything because Jesus has already proven everything. Discover how our thirsty hearts can only be quenched by the living water.
S.H.A.P.E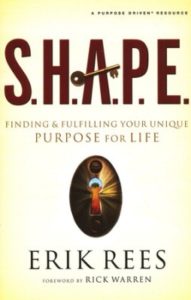 by Erik Rees, hosted by Karen Moore

Thursdays, March 8-May 31
12:00-1:00pm | Atomic Coffee | Cost: $14
Based on the purpose of ministry outlined in The Purpose Driven Life, this is designed to take you to that next level of purpose – to reveal how God designed you, and help see how that fits the intention for which you were created. You will go through the process of discovering your S.H.A.P.E. – your personal blend of Spiritual gifts, Heart, Abilities, Personality and Experience, and how to apply these attributes in ways that bring confidence, freedom, clarity & significance that can only come from your Creator.
Groups for Moms
MOPS & MomsNext


3rd Saturday of the month | 9:00-11:00am | South Campus
Moms with children of ALL ages are invited to get connected with MOPS "Mothers of Preschoolers" and MomsNext (Mothers of School Age). This year, we are combining both groups to be able to nurture EVERY mother with children infancy through school age. We are so excited to be bringing these groups together to guide and support one another! Grab a friend and join us for great food, fellowship and fun! Contact fargohopemops@gmail.com.
KAMS


Thursdays

| 9:00-11:00am | South Campus
Hopefull Single Moms


Next Meetings: March 6 & 20 | 5:45-7:30pm | South Campus
Single moms, take time to rest with God, rejuvenate, share challenges and solutions with women experiencing the same issue as you! Newcomers are welcome anytime. For more information or to register, contact Lori at 701.367.8290 or loriinfargo@yahoo.com.
Connections
Veterans of Hope
For more information on the Veterans of Hope click here.
Higher Power Automotive Ministry Sparkplugs make connections between the mechanics and the women who need their cars fixed. We are looking for volunteers with a compassionate heart for single women who are struggling. A one-time training is offered and we ask for a six-month commitment. Contact Judy S., 701-235-6629 x241 or jsiegle@fargohope.org.
Golf Girls meet Tuesdays at scheduled golf courses April-October. Contact Nicki at 701.235.1458
to receive weekly email updates of when & where they play.
When: 6:00pm Tuesdays & 5:15pm Thursdays Cost: nominal fee
Where: North Campus Leader: Mary Holm
When: 5:30pm Tuesdays & Thursdays Cost: $2/class or $10/month

Where: South Campus- Thursdays Leader: Tracy Mayo

Book Clubs
Groups meet monthly. The same monthly book selection is discussed at both meetings.
Read 'n Relate
meets the 1st Tuesday of the month, 7:30pm in the North Campus Lounge.
Contact:
Linda, 701-866-0619
Read 'n Relate Too
meets the 2nd Monday of the month, 11:15am in the South Campus Media Center.
Contact: Karen at 701-361-0325 or ksilbernagel@cableone.net
HLCW Circles
Circles meet monthly for Bible study and have mission projects to benefit our community.
Mary-Martha Circle meet the
1st Thursday of the month, 1:30pm at the North Campus. Leaders: Sylvia and Lois
Sara Circle meets the 2nd Tuesday of the month, 9:30am at the South Campus. Leader: Edna
Ruth Circle meets the 3rd Tuesday of the month, 6:30pm at the South Campus. Leader: Mary Ann
Lydia Circle meets the 2nd Tuesday of the month, 7:00pm by hosted schedule. Leader: Linda C.
Dorcas Circle meets the 3rd Monday of the month, 7:15pm by hosted schedule. Leaders: Ann & Rosalie.
Naomi Circle meets the 3rd Tuesday of the month, 9:30am by hosted schedule. Leaders: Linda J. & Jan N.
Meet Our Women's Ministry Team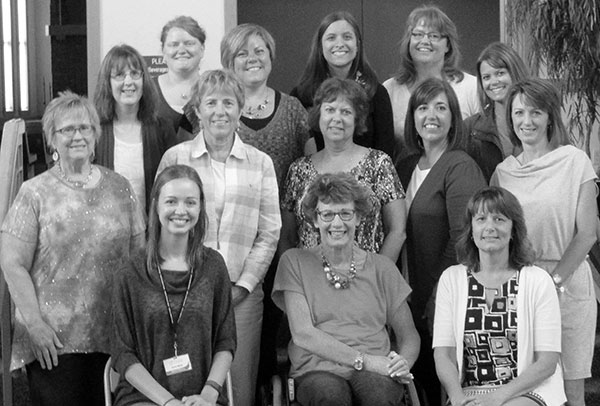 Women's Ministry at Hope Lutheran is alive, vibrant and full of opportunities to grow in your faith. The Women's Ministry team is made up of volunteers and is led by our Women's Ministry Director, Judy Siegle. We are always looking for new women to join our team.
Back row: Sherri Pederson, Elise Joersz, Stefanie Jordheim, Natalie Lanoue, Kristin Schiotz, April Rabideaux
Middle row: Linda Haukedahl, Idette Graham, Karen Moore, Courtney Peterson, Kristi Johnson
Front row: Anne Slette, Judy Siegle, Debbie Bartholomay
Not pictured: Mary Ann Hansen
Open Arms Ministry
Open Arms supports students with disabilities so they can participate in Student Ministry activities.
Click here to be an Open Arms Volunteer.
For more information, contact Judy Siegle at jsiegle@fargohope.org.
Contact us:
Women's Ministry Director

Hope Lutheran Church | 701-235-6629 | North Campus: 2900 Broadway N. Fargo, ND 58102 | South Campus: 3636 25th St. S. Fargo, ND 58104