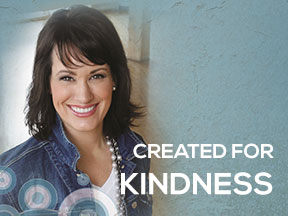 Created for Kindness with Nicole Phillips
Friday, April 28 | 7:00-8:30pm | South Campus

Cost: $8 (includes dessert) | MEN AND WOMEN WELCOME

Tickets available online or in the Church Office

Hear this amazing presentation by Nicole Phillips, a champion for using kindness to overcome life's difficulties. For every act of kindness we commit, God promises a reward. Nicole will explore the possibility that we are not only commanded to be kind, but indeed created for that very purpose. For questions or more information contact Judy S. at jsiegle@fargohope.org or 701-235-6629, x241.
The Sacred Echo

by Margaret Feinberg, hosted by Karen Moore

Wednedays, April 19-May 24

7:00-8:30pm | North Campus | Cost: $9

Explore how to recognize God's voice in your life and how when God speaks he will echo the same message through a sermon, a passage of Scripture, a chance conversation, or an unexpected encounter.

Why Do You Believe That

by Mary Jo Sharpe, hosted by Karen Moore

Wednedays, June 14-Aug 2 (No meeting July 5th)

7:00-8:30pm | North Campus | Cost: $14

Do you feel confident talking about matters of faith? Do you wish you could effectively express your beliefs? Gain understanding and skill in how to share with others to better understand your faith, doubts and build confidence to change your life.

All Things New

by Kelly Minter
Wednedays, March 8-May 10

1:00-3:00pm | North Campus | Cost: $14

You will be lead through the Letter of 2 Corinthians by exploring the anchoring truths of bearing treasures, meeting Christ through a pressing thorn, opening your heart in hurtful relationships and embracing the lost and lonely.

Open Your Bible

by Myers & Williams, hosted by Karen Moore

Thursdays, March 2-April 13

12:00-1:00pm | Atomic Coffee Broadway | Cost: $16
We all long to hear from God, ache to know who He is and know His heart. The Bible is yours. It is for you to know and for you to encounter God. No matter if you read your Bible everyday, have never opened it before or find it difficult to keep up with His word. This study will give you a deeper understanding and desire to know the Bible and will help you learn how to read, study and apply Scripture with confidence.

Lord, Change My Attitude

by James MacDonald,
hosted by Linda Squires & Amy Bjerke
Fridays, February 3-April 14

9:30-11:00am | South Campus | Cost: $16
Learn how much our attitudes affect our lives and can rob us of joy. Learn how you can put off attitudes God hates and put on those He honors.
by Priscilla Shirer,
hosted by Karen Moore

12:00-1:00pm | Atomic Coffee | Cost: $13

Each chapter focuses on prayer strategies by addressing real life issues such as renewing passion, refocusing identity, negotiating family strife, regret, navigating schedule and many more.

Groups for Moms
MOPS
3rd Saturday of the month | 9:00-11:00am | South Campus
Mothers of Preschoolers is a Christian support group for mothers of children ages birth- kindergarten. We seek to connect and experience God's love through personal relationships and fellowship. Childcare is available for $1/child per session. Registration is $40 per year. Contact Amanda,
afbrat96@hotmail.com
or 701-371-9072.
KAMS
Kids and Moms meets weekly Thursdays from 9:00-11:00am at the South Campus for Bible Study, fellowship and service projects. Childcare is provided. Contact Amanda P at
amandaperzinski@yahoo.com
MOMSnext
1st Tuesday of the month | 7:00-9:00pm | North Campus
MOMSnext is an opportunity to cultivate community with other moms who have school-age kids. MOMSnext is like MOPS, but instead of chatting about potty training and sleepless nights, we talk about partnering with teachers and navigating our kids' increasing freedoms in the neighborhood, on the internet, and at home. Registration is $30 per year. Contact Stef Jordheim at sjordheim@fargohope.org.

Hope-Full Single Moms
Tuesdays: May 9 & 23 | 7:00-8:00pm | North Campus
Single moms are welcome to join us for encouragement, conversation, laughter and prayer. All single moms are welcome! Childcare is provided. Contact: Lori J. at loriinfargo@yahoo.com to RSVP.
Connections
Golf Girls meet Tuesdays at scheduled golf courses April-October. Contact Nicki at 235-6629, x237 or
When: 6:00pm Tuesdays, 5:15pm Thursdays Cost: nominal fee
Where: North Campus Leader: Mary Holm
Book Clubs
Groups meet monthly. The same monthly book selection is discussed at both meetings.
Read 'n Relate
meets the 1st Tuesday of the month, 7:30pm in the North Campus Lounge.
Contact:
Linda, 701-866-0619
Read 'n Relate Too
meets the 2nd Monday of the month, 11:15am in the South Campus Media Center.
Contact: Karen at 701-280-0318 or ksilbernagel@cableone.net
HLCW Circles
Circles meet monthly for Bible study and have mission projects to benefit our community.
Mary-Martha Circle meet the
1st Thursday of the month, 1:30pm at the North Campus. Leaders: Sylvia and Lois
Sara Circle meets the 2nd Tuesday of the month, 9:30am at the South Campus. Leader: Edna
Ruth Circle meets the 3rd Tuesday of the month, 6:30pm at the South Campus. Leader: Mary Ann
Lydia Circle meets the 2nd Tuesday of the month, 7:00pm by hosted schedule. Leader: Linda C.
Dorcas Circle meets the 3rd Monday of the month, 7:15pm by hosted schedule. Leaders: Ann & Rosalie.
Naomi Circle meets the 3rd Tuesday of the month, 9:30am by hosted schedule. Leaders: Linda J. & Jan N.
Meet Our Women's Ministry Team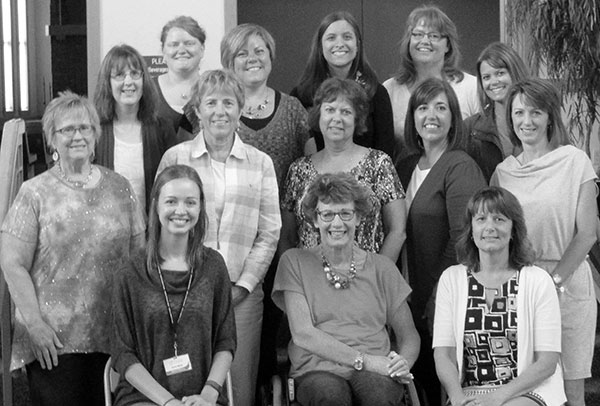 Women's Ministry at Hope Lutheran is alive, vibrant and full of opportunities to grow in your faith. The Women's Ministry team is made up of volunteers and is led by our Women's Ministry Director, Judy Siegle. We are always looking for new women to join our team.
Back row: Sherri Pederson, Elise Joersz, Stefanie Jordheim, Natalie Lanoue, Kristin Schiotz, April Rabideaux
Middle row: Linda Haukedahl, Idette Graham, Karen Moore, Courtney Peterson, Kristi Johnson
Front row: Anne Slette, Judy Siegle, Debbie Bartholomay
Not pictured: Mary Ann Hansen
Open Arms Ministry
Open Arms supports students with disabilities so they can participate in Student Ministry activities.
Click here to be an Open Arms Volunteer.
For more information, contact Judy Siegle at jsiegle@fargohope.org.
Contact us:
Women's Ministry Director

Hope Lutheran Church | 701-235-6629 | North Campus: 2900 Broadway N. Fargo, ND 58102 | South Campus: 3636 25th St. S. Fargo, ND 58104