We are glad you are joining us on our faith journey. Study cost is for materials. If you already have the materials there is no cost for the study. Scholarships for Bibles, study materials, or childcare are available. Questions? Contact the Church Office at 701-235-6629.
Psalm 23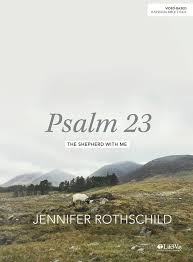 by Jennifer Rothschild hosted by Karen Moore
7:00-8:30pm | North Campus
"The Lord is my shepherd; I shall not want." Many women know Psalm 23 by heart but haven't experienced its power in their lives. This beloved psalm can breathe new life into women who are weary and unsure of their next steps. It's more than a psalm that comforts in death; it gives confidence in life. Explore the depths of God's compassionate care while debunking the self-reliance myth. Learn how your vulnerability is not a liability because you can trust the Shepherd's goodness throughout each season of life.
What Matters Most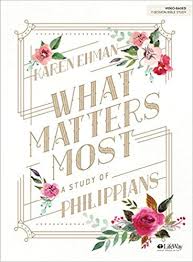 by Karen Ehman hosted by Lois Anfinrud
Wednesdays, Jan 16-Feb 27
1:00-3:00pm | North Campus
The world has always been full of trials, disappointments, temptations, fractured friendships & financial hardships. Paul's letter to the Philippians shows we can discover contentment & joy in the midst of it all by prioritizing what matters most—Christ. Join Karen Ehman in this 7-session study as you discover how to: Banish anxiety & worry, reset your negative patterns of thinking, experience lasting joy despite difficult circumstances & transforming your life by discovering your priorities & learning how to live them out.
The Faithful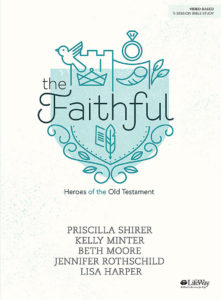 by Beth Moore, Priscilla Shirer, Kelly Minter, Jennifer Rothschild & Lisa Harper hosted by Karen Moore
Wednesdays, Nov 28-Jan 16
7:00-8:30pm | North Campus
Borrowing from best-selling studies by Beth Moore, Priscilla Shirer, Lisa Harper, Kelly Minter & Jennifer Rothschild, this study explores crucial moments in the lives of 5 Old Testament figures: Esther, Gideon, Malachi, Nehemiah & Hosea. Discover how God uses the lives of ordinary people for His glory & the good of His people. Strengthen your faith as you walk alongside these larger-than-life figures who all chose to obey God no matter the circumstances.
Love Without Limits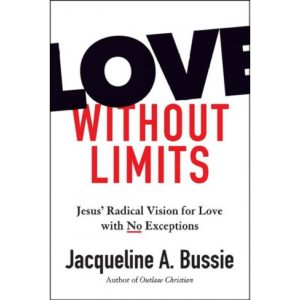 by Jacqueline Bussie hosted by Karen Moore
12:00-1:00pm | Atomic Coffee
The love of God crosses all boundaries. Every. Single. One. Every day, millions of people lament the loss of civility, respect & hope, and they wonder if it's possible to cultivate a love big enough to overthrow hate and heal our hurts. With courage, authenticity & relevance, Bussie proclaims, "Yes! it's possible!" & urges readers to widen love's wingspan and to love as god loves – without limits or exceptions.
*Bussie is a local author and professor at Concordia College in Moorhead
Twelve Women of the Bible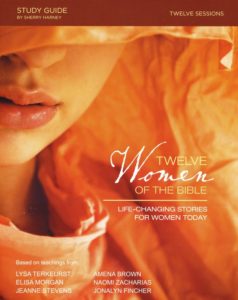 by Lysa TerKeurst, hosted by Ruth Circle
6:30-8:00pm | South Campus
In this study you'll look at the spiritual lessons learned from twelve women & what they mean for you today. You'll discover how these lessons can help you persevere through the circumstances you are facing. You'll learn how to apply biblical lessons to your own modern-day struggles; live through their failures as well as successes; draw near to God in a world filled with trials; find lasting contentment & overcome rejection & insecurity.
The Invisible War
by Chip Ingram hosted by Karen Moore
12:00-1:00pm | Atomic Coffee
This book examines what every believer needs to know about Satan, demons & spiritual warfare, offering a balanced look at this controversial subject. This provocative book will help Christians understand what the Bible says about these threats & will show them how they can safeguard themselves through prayer. The Invisible War offers a balanced look at what is going on in the spiritual realm & what believers can do to defend themselves.
MOPS & MomsNext
3rd Saturday of the month

| 9:00-11:00am | South Campus

|

Next Meeting: January 19
When you combine MOPS (designed for moms of children ages birth-kindergarten) and MOMSNext (designed for moms of school-age children) you get an open, accepting place for moms of children of all ages to experience authentic community, personal growth, practical help and spiritual hope. It's all about friendship, Christian relationships and experiencing God's love. Grab a friend and join us for great food, fellowship and fun! Contact fargohopemops@gmail.com.
KAMS

Thursdays

| 9:00-11:00am | South Campus
Bible Study, fellowship and service projects. Childcare is provided. Contact Callie Bahls at cmbahls@yahoo.com or 701.793.0289.
Hope Full Single Moms

Twice Monthly on Mondays

| 6:00-7:30pm | South Campus
Next Meetings: January 14 & 28
For all single moms, this is a time to rest with God, rejuvenate, share challenges and solutions with women experiencing the same issues as you. There is no cost to attend and childcare is available. For more information or to sign up for childcare contact Lori at 701-367-8290 or loriinfargo@yahoo.com.
Veterans of Hope
For more information on the Veterans of Hope click here.
Higher Power Automotive Ministry Sparkplugs make connections between the mechanics and the women who need their cars fixed. We are looking for volunteers with a compassionate heart for single women who are struggling. A one-time training is offered and we ask for a six-month commitment. Contact Judy S., 701-235-6629 x241 or jsiegle@fargohope.org.
Golf Girls meet Tuesdays, 9:00am at scheduled golf courses (May-October). Contact Nicki at 701.388.7628
to receive weekly email updates of when & where they play.
When: 5:15pm Tuesdays & Thursdays Cost: nominal fee
Where: North Campus Leader: Mary Holm
When: 5:30pm Tuesdays & Thursdays Cost: $2/class or $10/month
Where: South Campus- Thursdays Leader: Tracy Mayo
Book Clubs
Groups meet monthly. The same monthly book selection is discussed at both meetings.
Read 'n Relate
meets the 1st Tuesday of the month, 7:30pm in the North Campus Lounge.
Contact:
Linda, 701-866-0619
Read 'n Relate Too
meets the 2nd Monday of the month, 11:15am in the South Campus Media Center.
Contact: Karen at 701-361-0325 or ksilbernagel@cableone.net
HLCW Circles
Circles meet monthly for Bible study and have mission projects to benefit our community.
Mary-Martha Circle meet the
1st Thursday of the month, 1:30pm at the North Campus. Leaders: Sylvia & Lois
Sarah Circle meets the 2nd Tuesday of the month, 9:30am at the South Campus. Leader: Edna
Ruth Circle meets the 3rd Tuesday of the month, 6:30pm at the South Campus. Leader: Mary Ann
Lydia Circle meets the 2nd Tuesday of the month, 7:00pm by hosted schedule. Leader: Linda C.
Dorcas Circle meets the 2nd Tuesday of the month, 1:30pm by hosted schedule. Leaders: Ann & Rosalie.
Naomi Circle meets the 3rd Tuesday of the month, 9:30am by hosted schedule. Leaders: Linda J. & Jan N.
Open Arms Ministry
Open Arms supports students with disabilities so they can participate in Student Ministry activities.
Click here to be an Open Arms Volunteer.
For more information, contact Judy Siegle at jsiegle@fargohope.org.
Contact us:
Women's Ministry Director
Hope Lutheran Church | 701-235-6629 | North Campus: 2900 Broadway N. Fargo, ND 58102 | South Campus: 3636 25th St. S. Fargo, ND 58104