CHILDREN'S MINISTRY: HOPEKIDS
2020-2021 Registration Is Now Open!
Hopekids is a
Christian education program for kids 3 years old (as of August 1, 2020 and toilet-trained) through 5th grade. Your child will connect with adult leaders who are committed to sharing their faith in Jesus Christ and hear God's truth through interactive Bible teaching, creative dramas and high-energy music that is age appropriate and reinforces learning.
North Campus
7:00pm (No Pre-K at 7:00pm)

Sundays | 9:45am & 11:00am
South Campus
7:00pm (No Pre-K at 7:00pm)

Sundays | 8:15am, 9:30am & 11:00am
West Campus
Sundays | 9:00am & 10:30am
Online

Wednesdays | 6:30pm via Zoom
All times are subject to change.
Lesson video posted each Sunday hosted by a member of our team for both Preschool and K-5 students beginning in September 2020

Parent Cue – we encourage families to download this app to view additional ways to connect with the lesson throughout the week and to view the "Orange" video with our friends, Ollie, Kellen, and from the 'So and So' Show.

Weekly activity pages

Weekly online group connects through Zoom

Optional sign-up for "Pick-up Packs" for each unit that includes crafts and activities to be done at home that mimic the Hopekids hour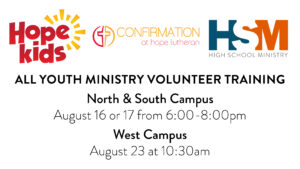 Volunteer Training

All Hopekids, Confirmation, and HSM volunteers, or those interested in volunteering, are invited to our fall training at their respective campuses on August 16 or 17 from 6:00-8:00pm for North and South Campus and August 23 at 10:30am for West Campus. Training includes: new health and safety policies and procedures, opportunities to meet staff and ask questions, along with an uplifting message to kick-off the year!
No need to RSVP. Childcare not provided this year due to safety and health guidelines.
FOCUS VBS will teach kids to explore the different ways we can FOCUS on God.
Virtual Bible School 2020
We've had to adjust the way we do VBX- our Vacation Bible Experience. Because we can't meet together in person, we've decided to do a Virtual Bible School so all our sessions are available online! Click on the button below for our archived VBS 2020 videos and activity guides.
As a parent, some of the most important things you do for your child don't happen in a single day. You make small deposits in their life week after week—over time. That's why the Parent Cue App gives weekly cues to help you make the most of the time you spend with your kid or teenager.
Be sure to link to Hope Lutheran Church by using the 58102 zip code for even more meaningful ways to connect with what your student is learning each week!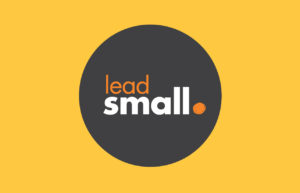 Are you volunteering in children's ministry, or want to know more about volunteering? Click on the links below to find out more!
Director of Children's Ministry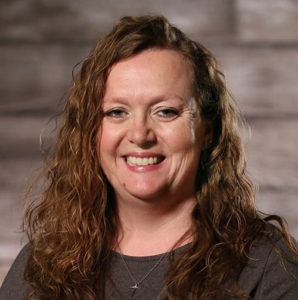 Associate Hopekids Director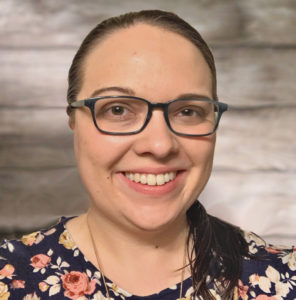 KATIE VAN DAME
Associate Hopekids Director
Open Arms Ministry
Open Arms supports
children with disabilities so they can participate in Children's Ministry activities.